Supreme Court Justice. Passed away today. It was announced, almost as soon as his body was found, as being by natural causes.
That was a mighty fast statement. God rest his soul and bring comfort to his Family.
Whether or not an ultra progtard gets rammed through the nomination process now rest in the hands or flippers, of Stalwart Republican Senator, The Majority Leader, the man who has given barry sotero everything he wanted, mitchy "turtleneck" mcconnell.
So glad are betters, the heavy hitters in the repuke party, gave up on the Culture Wars. We are a much better Country because men like Mitt and captain juanny, work with the other side to get things done.
If you actually believe we still live in a Representative Republic, I do believe you finally found that last hill.
Did mcconnell find his nuts?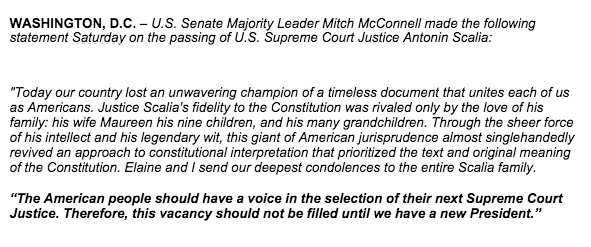 A Man with Nuts would have said "this vacancy WILL not be filled……..